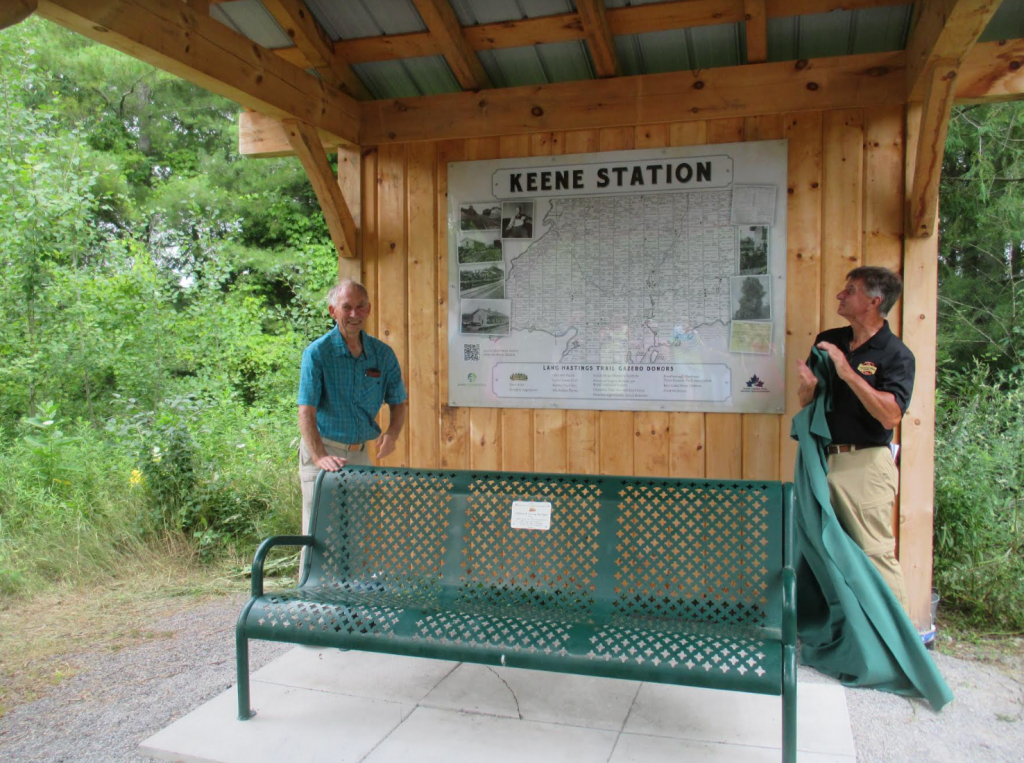 Last Thursday, under a haze of humidity, a crowd of community members and trail supporters gathered around the new Keene Station Gazebo to witness the unveiling of a brand new historical plaque and dedication to the gazebo donors. The ceremony, carried out by Lang Hastings Trail board president Barry Diceman and Mayor of Otonabee South Monaghan Joe Taylor, was the result of many months of hard work by board members and community volunteers alike.
To kick off the unveiling, board member Christine Painter introduced Clementine MacLeod, the Engagement and Sustainability summer student, and expressed appreciation to Trans Canada Trail for a spring clean-up grant of $1,000. Barry Diceman delivered a heartfelt speech, honouring the accomplishments of the committee and the vibrant history of the trail.
In his speech, Diceman explained that the board decided that the Keene Station site "needed something to add some character and information to the location" to encourage trail users to properly appreciate its historical importance. Diceman went on to thank all those who offered their help and support in the erection and maintenance of the gazebo and trail, then invited mayor Joe Taylor to help him in unveiling the plaque for the first time.
Taylor gave a meaningful short address, acknowledging the importance of the trail to the community. Together, Barry and Joe pulled down the curtain and revealed the plaque to the group. With an enthusiastic cheer, the crowd welcomed a new era of the Keene Station and demonstrated the strong community brought together by the Lang Hastings Trail.